Your Website
Your website is where everything you do in Build-a-Brand is showcased in order to build your online brand. Your live vehicle inventory, photo and video customer reviews, video messages, digital vehicle brochures, and more, are all displayed here for instant access, 24/7.
Certain items like video messages, are available only through a private link you share with your prospects and customers individually.

  Click the button to the left to launch the interactive guided tour.
.
ADDITIONAL RESOURCES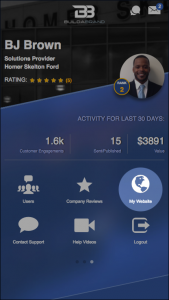 Last modified on Aug 1, 2018
218 Views