Reviews
Your photo and video customer reviews are displayed on your Build-A-Brand website in order to build trust with current and future prospects. Your reviews can be shared on social media by both you and your customers, helping create your online brand, as well as create "top of mind awareness" for future car-buyers.
ADDITIONAL RESOURCES
| | |
| --- | --- |
| | All of your customer reviews are showcased on a page inside your Build-A-Brand website. |
| | Each customer review has it's own page that can be shared in social media by both you and your customers. |
Having lots of positive online reviews in Google and Facebook is critical for public perception. Simple Reviews makes it easy to generate an abundance of positive reviews in the networks you choose. Display up to four networks, and change them at any time.
.
ADDITIONAL RESOURCES
Select an existing contact, or enter a new one quickly using only the name and phone.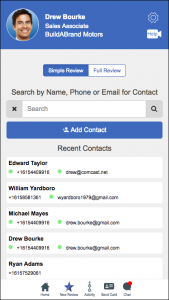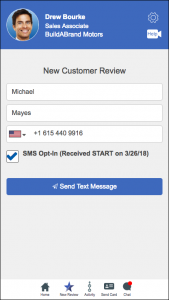 Click "Send" and your customer receives a friendly SMS text requesting a review.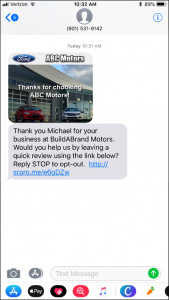 Before your customer can leave a review on a third-party network, Build-a-Brand uses a litmus test to determine whether their experience was positive or negative.
If they choose 1, 2 or 3 stars, they are redirected to a private feedback form. Their feedback is emailed to management instantly. No negative review is published on any third-party network.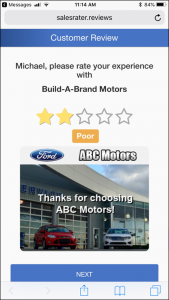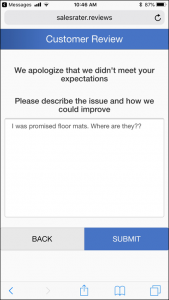 If they choose 4 or 5 stars, they are then presented with your choice of networks in which they can leave a great review. Your company gets to choose which networks are made available to customers, and can change these at any time.
Choosable third-party networks include: Google, Facebook, Cars.com, CarGurus, Edmunds, DealerRater, YellowPages, CitySearch, InsiderPages and FourSquare.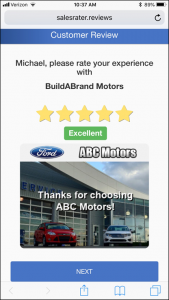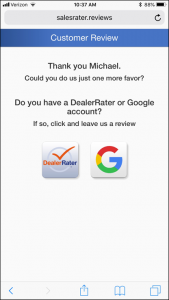 Last modified on Jul 5, 2018
1897 Views